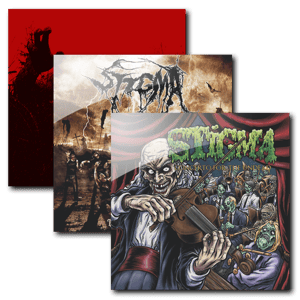 €

10.00 - On Sale
All of our releases for just 10 euros + shipping!!!
"CONCERTO FOR THE UNDEAD": Latest album produced by Jona Weinhofen (Bring Me The Horizon, ex Bleeding Through), mixed and mastered by Scott Atkins (Behemoth, Cradle Of Filth, Sylosis) featuring guest appearances by Jon Hunt (Dead To Fall) and Jamie Hope (ex The Red Shore).
Stunning artwork by Corefolio Design and a lyrical concept based on the horror cult as "Tales From The Crypt"!
"WHEN MIDNIGHT STRIKES!": Debut album released in March 2008 by Pivotal Rockordings L.L.C.
Produced by Ettore Rigotti (Disarmonia Mundi) is a concept based on horror classics as "Dracula", "Nosferatu" and "White Zombie"!
Comes with a free poster and free sticker!
"EPITAPH OF PAIN EP": Self produced EP released in 2004.
Produced by Ettore Rigotti (Disarmonia Mundi) includes two songs and bonus multimedia featuring our first ever EP "Metamorphosis" now sold out! A must have!